HOST YOUR NEXT PARTY AT BOWL-A-RAMA
Our bowling arcade in Sanford, ME is the perfect spot for any event, including:
FUN GAMES, GREAT FOOD AND GOOD VIBES
IT'S ALL HERE AT OUR BOWLING ARCADE IN SANFORD, ME
When you stop by Bowl-A-Rama in Sanford, ME, you'll find people of all ages trying their hand at bowling and arcade games. Locals love passing the time at our bowling alley; we feature daily discounts and specials so that you can bowl for hours without breaking your budget. Want to grab a bite before you bowl? You'll find all of your cheesy or fried favorites on our menu.
We have bowling shoes available for rent. Stop by our bowling alley today to learn more about our pricing information.
FILL IT WITH A DAY OF BOWLING AT OUR ARCADE
You and your guests can beat your boredom with a round of bowling before you move on to our array of arcade games. Then, you can wrap up the party by digging into one of our cheesy pizzas. For more information about hosting your event at our party venue in Sanford, ME, call 207-324-2401 now.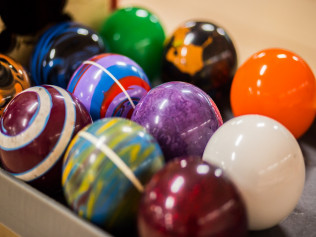 ---
HOST YOUR NEXT PARTY AT BOWL-A-RAMA
---
BOWLERS OF ALL SKILL LEVELS LOVE OUR ARCADE
Whether you're an amateur bowler or a seasoned pro, Bowl-A-Rama is right up your alley. Adults and kids alike can try their hand at bowling when they visit our arcade-we have kid-friendly inflatable bumpers that make it easy to bowl a strike. For the ambitious bowlers out there, we feature professional bowling leagues that meet throughout the week. Call us today to learn more about joining a bowling league in Sanford, ME.

The real fun starts Friday night, when we turn off the lights and turn up the glow of our bowling pins. Join us at our bowling arcade for Rock N Glo Bowl on Friday nights, Saturday afternoons or Saturday evenings. For a set price, you can enjoy glow-in-the-dark bowling with a free slice of pizza and a free drink.
Get in Touch
Come visit us in Sanford, ME!
Come visit us!
Bowl-A-Rama
1217 Main Street
Sanford, ME 04073
Call us!
Bowl-A-Rama 
(207) 324-2401